Cabinet Artwork Installation
(+ £500 to list price)
On some of our more popular machines we now offer a brand new looking cabinet with our full cabinet refurbishment option.
THE REFURBISHMENT INCLUDES:
A full strip of all hardware out of cabinet and backbox including wiring loom, boards, transformer, tilt assembly and speaker. Then the looms, boards, all fasteners...screws, bolts, etc are cleaned/polished.
The next step is to remove the old decals using a heat gun and scraper and to sand the cabinet smooth including the underside and inside to remove any cigarette stains/smells.
Any scratches and imperfections not removed by sanding then get filled with an automotive filler and sanded smooth.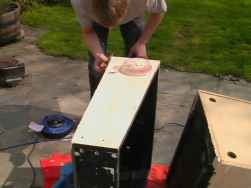 The cabinet and backbox are vacuumed and tac ragged to remove any dust and then sprayed with a special automotive spray filler. This fills any remaining microscopic imperfection and once sanded gives an excellent bonding surface for the decals.
The final step in the preparation is spraying a semi-gloss black cellulose paint on the inside and visible edges. Also all black bolts are sprayed black to give that new look.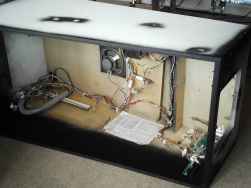 The next step involves laying the expensive new decals. We apply using the dry method as this allows for a much stronger adhesion. First the coin door decal is applied then the two sides, followed by the backbox. Prior to sticking the decals the surface is rigorously tac ragged to remove all traces of dust that would show through the decals.
Finally the hardware, boards, looms are reinstalled along with the buffed, mirror finish side rails and lock down bar.